Kemp's EGX Rezzed 2018 game picks
I recently attended EGX Rezzed on the 13th to 15th of April. Rezzed is a gaming event in the UK and is the more indie-focused cousin of the main EGX event. With so many games being demoed at these shows it would be a fool's errand to try to cover all of them. So here, in no particular order, is the shortlist of ones that caught my attention this time around. I've included a mix of different genres, so hopefully there's something in here for you.
Overcrowd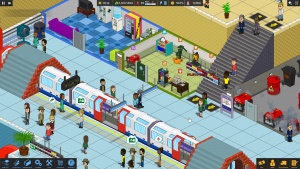 Overcrowd, by Square Play Games, is a game that will appeal to those of you that enjoyed classic Theme games such as Theme Hospital and Theme Park. You are tasked with constucting a station on the London Underground, with the available building space and the track locations being procedurally generated and up to four levels deep. You will be responsible for managing important things like power, trash collection, and crowd flow and will be subject to issues such as temperature, commuter moods, and criminal behaviour. It will be available in Early Access soon and can be found on Steam.
The Spectrum Retreat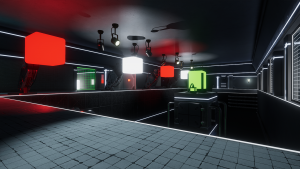 The Spectrum Retreat, by Dan Smith, won the BAFTA Young Game Designers Award in 2016. I played an early version last year at Rezzed and was happy to see it return this year. The Spectrum Retreat is a first-person puzzle game with a core mechanic, at least in the demo available, requiring you to swap colours between special blocks and a handheld device in order to be able to pass through forcefields. Since last year the game has expanded on the largely mechanic-based demo to give a hint of the larger setting it takes place in. If you enjoy game such as Portal and Q.U.B.E. then this is one to watch out for. The target release date is summer this year and you can find the game on Steam and it is planned to release on PS4, Xbox One, and Switch.
Unforeseen Incidents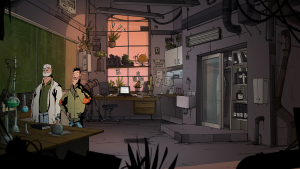 Unforeseen Incidents, by Backwoods Entertainment, is a point-and-click adventure game with 2D hand-painted graphics and full voice acting. Your protagonist gets caught up in a mystery surrounding a disease that is sweeping across the country, leading to some very strict and perhaps brutal quarantine measures. The game looks good and the plot got me hooked from the start. I could have spent much longer playing the game than I did. One of the best features is the inclusion of the type of humour that you find in older point-and-click games. It's not thrown in your face at every turn, so you can appreciate it when it does come up. The target release date is the 24th of May and you can pre-order right now at £11.49 or $14.99 (a 25% discount over the release price).
Catastronauts
Catastronauts, by Inertia Game Studios, is a couch co-op game much like Overcooked, but if your cooks were the crew on a ship from FTL. The players have to work together to keep the ship functioning while they're under attack and everything is falling apart around them. If you have a group of three other people to play with then this game seems like it would be a lot of fun. The people playing at Rezzed certainly seemed to be having a good time. I fully expected the developers to be going for the triple pun and have the crew be anthropomorphic cats, but alas this wasn't the case. There is a competition to get a character of your own design into the game though, so… I'm just saying. The target release date is late 2018 and you can find the game on Steam. It will also be released on PS4, Xbox One, and Switch.
Locomotion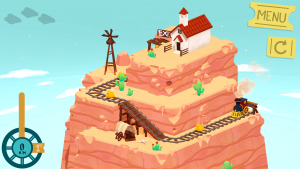 Locomotion, by Polyfox, is a puzzle game that asks you to drive a train to each level's exit, collecting gold along the way. To make this more difficult the track has branching tracks and obstacles such as track sections that are raised and lowered by levers that you drive past. I only played a few of the demo levels but I could already see how the later levels could get quite complex to solve. Unfortunately the game doesn't currently have a website (though that will change soon) so details are a little sparse, but I do know that PC will be the first release platform and they are targeting a release towards the end of summer 2018.
Armoured Engines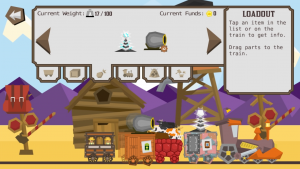 Armoured Engines, by Bounder Games, is described as a "steam punk western epic". The game centers on train conductor Dusty Beats and the living engine Billy Wylam. The train can be customised with a variety of weapons and armed passengers in order to combat foes such as drones, artillery shells, and other trains with giant spinning blades of death. Meanwhile, the journey passes through a variety of areas with distinct appearances. I originally played this game at Rezzed in 2017 and a lot has been added since then, including new levels, new weapons, passengers, and crafting. Armoured Engines can be found on Steam, where a projected release date of early 2019 is listed.
Megaquarium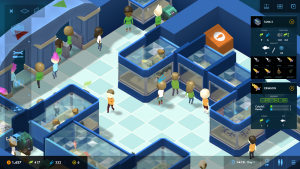 Megaquarium, by Twice Circled, is management simulation game where the player is put in charge of creating an aquarium to attract visitors and make the big money. This is another game that I saw at Rezzed in 2017 and a lot of new content has been added since then. The game has a very relaxed feel to it and it would seem to provide a pleasant break from the more intense games in your library. The release date is currently given as the relatively vague "2018" and you can find it on Steam for wishlisting purposes.
Pathway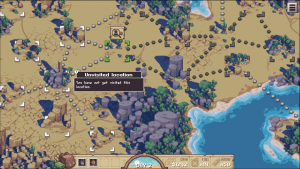 Pathway, by Robotality, is a game set in 1936 in the immediate aftermath of your friend being kidnapped by the Nazis for interfering with their occult research. The gameplay itself revolves around a main map with randomly generated enounters at the locations you can travel to. Imagine a more free-form FTL. The encounters may require you to make decisions, which of course have repercussions, or you may end up having to use the turn-based combat system. The graphical style reminds me somewhat of Curious Expedition, which certainly isn't a bad thing. The game will be released for PC sometime in 2018 and can be found on Steam.
Wargroove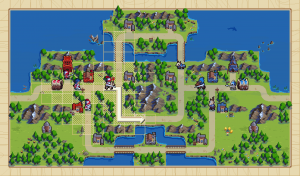 Wargroove, by Chucklefish, is a turn-based strategy game that you can tell is inspired by the Advance Wars series. In a stroke of good luck, I really like Advance Wars. It brings a fresh perspective to the formula, though, having a medieval style setting with a bit of fantasy mixed in for good measure. Wargroove will offer features such as online multiplayer and extensive modding support, which should enhance the replayability significantly. The game will be released for PC, PS4, Xbox One, and Switch.
Order of Magnitude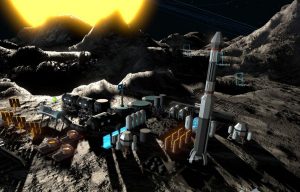 Order of Magnitude, by Introversion Software, is currently quite early in the development cycle. In fact, there isn't even a website for it yet. However, the build that was being shown at Rezzed already demonstrated the scope of the game. You are tasked with building colonies around the solar system, much like many other base building games. However, the game will model many of the sociological effects of living in the colonies, as well as how the different colonies interact with each other. A very eye catching feature is the zoom capability that doesn't restrict the camera height, allowing you to pull all the way back into space while still being able to see the colonies (at least, until they become smaller than your pixels). You can also seamlessly move between planets to inspect your other colonies. This game shows a lot of promise.
Those are the games that caught my eye at Rezzed. If you attended what were your favourites? Is there a game you're really excited for the release of? Let me know in the comments or on Twitter at @KempPlays.
---
Tags:
Armoured Engines
,
Backwoods Entertainment
,
Bounder Games
,
Catastronauts
,
Chucklefish
,
Dan Smith
,
EGX
,
Inertia Game Studios
,
Introversion Software
,
Locomotion
,
Megaquarium
,
Order of Magnitude
,
Overcrowd
,
Pathway
,
Polyfox
,
Robotality
,
Square Play Games
,
The Spectrum Retreat
,
Twice Circled
,
Unforeseen Incidents
,
Wargroove