N++ launch day thoughts
Disclosure: I was provided with a free Steam key for this game for review purposes. I was not given any requirements or instructions for the review.
I have a bit of history with the N series of games, starting with N itself as a Flash game a long time ago and then picking up on the Nintendo DS with N+. Both were very enjoyable, being platformers with a minimalistic graphical design but gameplay that can get quite intense. For me they fall into the same general category as Binaries—a game that has simple mechanics that are easily understood but which can make you think hard about your next move and will possibly cause an amount of rage when you repeatedly die on a level. When I was given the opportunity to try out the latest incarnation, N++, I took it immediately.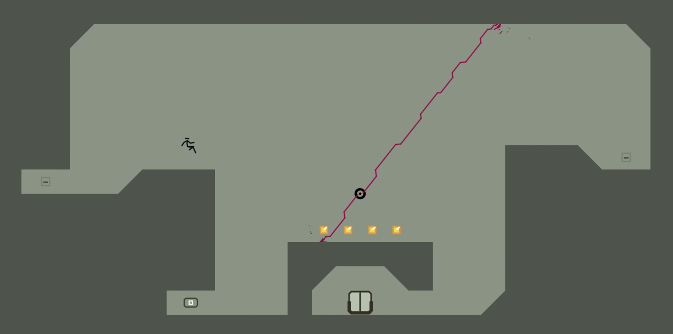 N++ is instantly recognisable as being a successor to the previous ones in the series, displaying the same aesthetic that has served it well for over a decade but in a sleeker package and able to take advantage of running natively on a PC. The basic mechanic is that you must guide your stick figure ninja to the exit door before the time runs out. A variety of traps try to prevent this, including mines and lasers, with the player also required to touch buttons on the back-wall in order to open the door for their escape. The time pressure can be alleviated by collecting orange squares that add to your clock. This also forms the basis of the scoring system, with the goal being to complete the level with as much time remaining as possible. As well as the built-in levels (a full 2,360 of them), N++ comes with a level editor and, as you would expect, will allow you to share your creations with other players. This is a big deal for community engagement and I'm sure people will create some truly insane and diabolical levels requiring super-human reflexes. I'm also sure players will demonstrate those reflexes in some incredible YouTube videos.
Of course, everything isn't perfect (when is it?). I did have one or two minor annoyances but none actually impacted the gameplay. The only one a player will encounter was that on an Xbox 360 controller you can't navigate the menus using the left analog stick, only the digital pad. This is a very minor thing though. The other issue only applies to recording footage with dxtory, for which the game threw up several (accidental) roadblocks. In the end, neither of these issues would cause me to avoid the game or to recommend against buying it yourself—they are truly minor and I include them here only for completeness.
In conclusion if you've played the previous games in the series and are looking for more then N++ will be right up your alley. I'd also recommend this as a title to try out if you're a fan of tricky platformers. Otherwise check out the links and see how it strikes you, but definitely one to consider.
---
Tags:
Metanet Software
,
N++